PAULINIAN FORMATORS: GIFTED TO GIVE By Mary Francis V. Laquinon, Ed.D.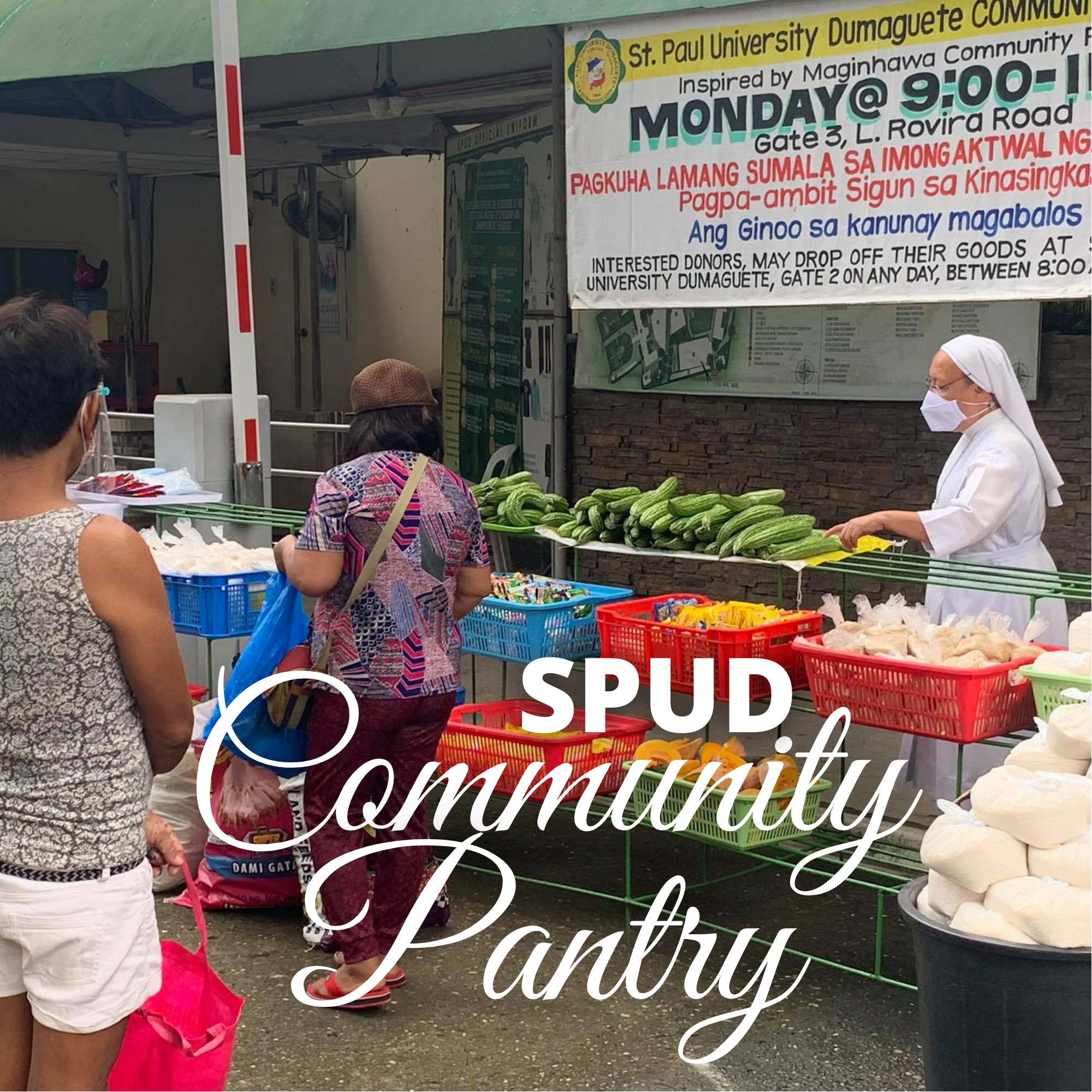 As we culminate the Year's Paulinian Roots Identity Spirituality and Mission Time or PAULI TIME activities, we, the Paulinian Formators of St. Paul University Dumaguete also launched the Year of Mission to be one with the Philippine Church in the celebration of the 500 Years of Christianity in the country.
The Pauli TIME was centered on the online talk of Fr. John Renil Quiliope, our University Chaplain last May 3, 2021, on "Gifted to Give: Paulinian Missionaries". It was during the sharing where each one was led to realize that we are all gifted in our own unique ways, and we're ushered to reflect on how we could celebrate the giftedness of each other.
In response to the invitation to be a gift to others, the whole Paulinian Community, led by the Sisters of St. Paul of Chartres, Faculty, Staff and Maintenance Personnel launched "SPUD Community Pantry" inspired by the Maginhawa Community Pantry, to gather seed money from the CES funds. With that initiative, some employees were inspired to share their giftedness by giving goods in-kind and in cash. It also moved our Alumni, relatives of the Sisters and students to share their goods for the said cause.
This humble endeavor started last May 10,2021 in coordination with the Brgy. Officials of Bantayan, Dumaguete City to ensure that health and safety protocols were followed by the recipients. SPUD's Community Pantry became the symbol of the multiplication of the bread and the fish. Some parents, alumni , here and abroad pledged to donate in-kind or cash for SPUD's pantry. This will be an ongoing sharing of goods to 110 beneficiaries from the three communities nearby St. Paul University Dumaguete who will take turns to receive the goods every Monday, 9:00 – 11:00 a.m. There are designated places in campus where donors can just leave their donations.
We thank God for the generous individuals, who through the overflowing grace of God were moved to support our Community Pantry with the goods, cash and in kind they have shared. We pray and believe in the abundant grace of God to help us sustain the said initiative. As one Paulinian Community we share our giftedness.