Paulinian Teachers: Dispeller of the Darkness of Ignorance By Shantal Liana Guillen (SHS Batch 2020)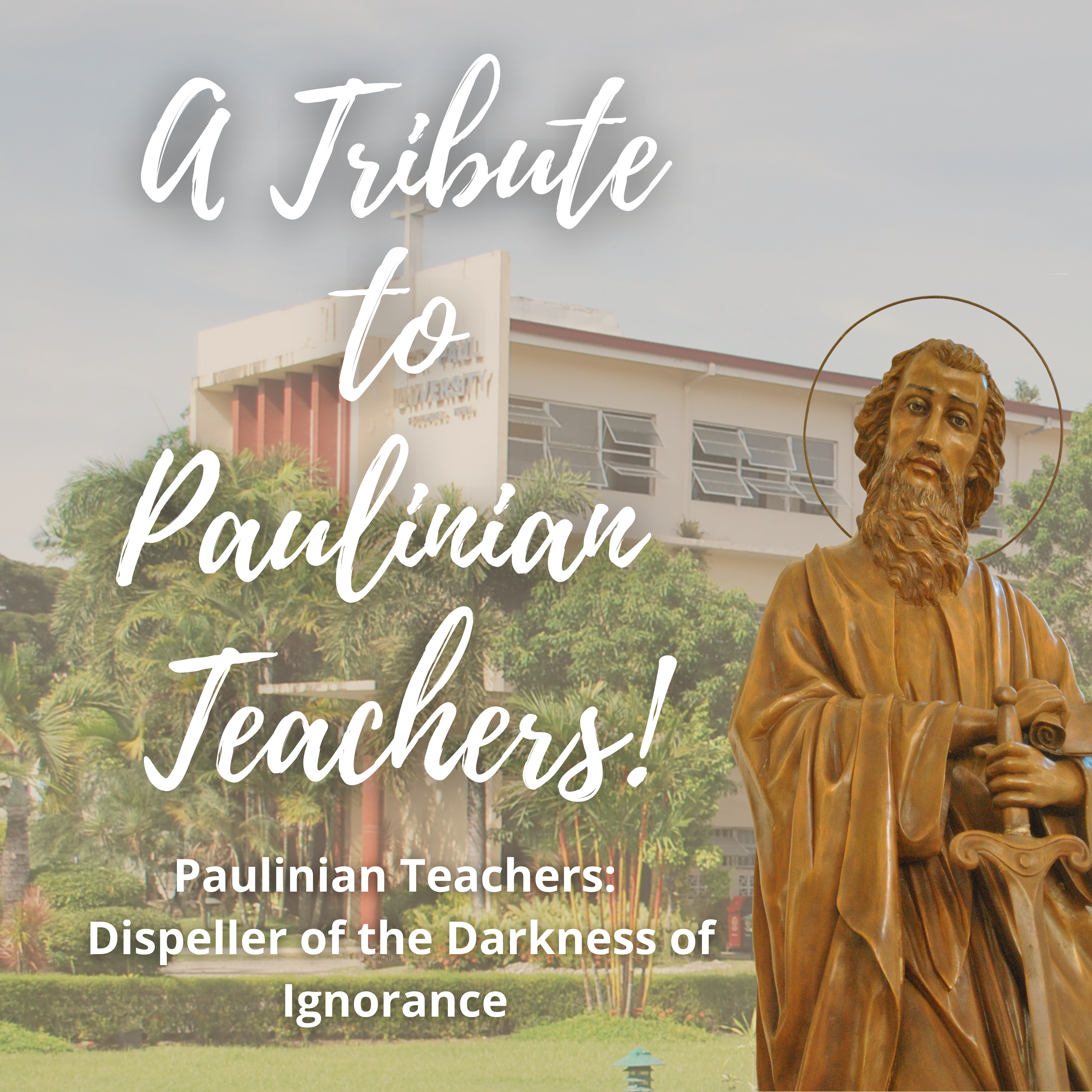 "Click, clack…click, clack", these are the loud sounds coming from my shoes every step that I make. "Click, clack…click, clack", sauntering to lessen the noise. Am I ready for this? My knees are shaking, and my hands are sweating. "You can do this!" I exclaimed as I put on a brave face upon entering the gates of St. Paul University Dumaguete --- the center of excellence in Catholic Education. And one of the driving forces behind this is the beautiful and inspiring teachers of the institution who heartily walk their talk, exerting all their passion that touches and shapes a student's life.
A teacher is imposed with the duty of fostering the development and perhaps expanding the consciousness of individuals by imparting values, experiences, and knowledge. With this, each student is given a chance to envision and embody an extraordinary future. What sets Paulinian teachers apart from the rest is their warm-affectionate embrace and openness to the thoughts of every student. About three years ago, I could still recall being "new" to the entire campus atmosphere, wherein I was pretty frightened of the things ahead of me, worsened by the idea of transitioning from a small rural school to an urban university. My first day, unlike the rest, was not as exciting because I was assigned on a strand that was not my personal preference. But thanks to this vibrant and accommodating teacher who assisted me in addressing my concern to the department. That encounter alone made me realize that I should not be terrified after all, for I am already in the right hands.
Paulinian teachers are compelling educators that exemplify a thorough understanding of the curriculum and delves into the overall development of a learner. They are devoted to forming integrated persons, incorporating the Paulinian Core Values of Christ-Centeredness, Commission, Community, Charism, and Charity. These teachers can relate with the students, treating them like family and making learning fun yet practical. Admittedly, I set foot on the campus with a bit of amount of recognition on specific topics. Still, when I graduated, I brought with me numerous learnings that I continually employ daily. For example, I was under a teacher who made Basic Calculus totally "basic" because of his great teaching techniques. On the other hand, another teacher taught me the value of time, perseverance, and the concept of "#WayChallenge" even though the given set of problems are pretty complicated.
Motivation in the classroom is the cornerstone of successful learning. All Paulinian teachers are brilliant motivators, giving everyone the odds to make a difference. I owe a great deal of gratitude to this one teacher who undoubtedly left a mark during my Senior High School journey, which saw my potential and encouraged me to strive for greater heights. Overall, the Paulinian education influenced me to carve my path and be the person I desire.
The days I spent at SPUD are unforgettable because of our beloved instructors' endless love and support. We know that you inspire and provide possibilities for students to seek their aspirations but rarely give yourselves credit for it. So today, we commemorate and appreciate all your efforts as teachers that are molders of holistic professionals in the making.
"Teachers, like leaves, everywhere abound. Effective teachers,  like fruits, are rarely found." – (Acero et al., 2000)
Paulinian Teachers are indeed scarce to find similar to fruits of plants that hardly reproduce. You all are truly incomparable. Happy Teacher's Day! Kudos to our dear Paulinian Teachers!